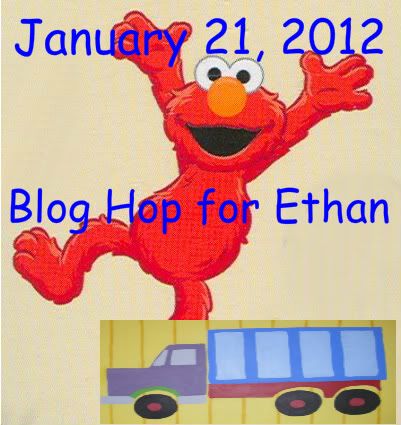 This blog hop is for a very special boy and his family! My thoughts and prayers are with them everyday!!
Welcome to Blog Hop for Ethan Pinter. He is a boy that is very sick. Here is a bio from his mom, Melissa Pinter: My name is Melissa Pinter and I have a 2 year old son name Ethan Pinter who was diagnosed with a rare liver disease called Biliary Atresia att the age of two months old. This is a rare disease because he was not born with Bio Ducts. So Dr. Pintinger and the Akron Children's Team reconstructed them and the procedure was called a Kasi. So at the age of 8 months old Ethan and I were Life flighted to Cincinnati Children's because he had Upper GI bleeds. The only thing that woud help him would be a New liver. Feb 18th 2011 he had recieved a half of another babies liver. This baby saved my son's life and we are so ever so greatful. Ethan and I had waited a total of 9 months for this. We have been seperated from my husband and daughter during that time. Ethan is now 2 years old and is having complications and we are currently living at the Ronald Mcdonald House in Cincinnati till we get him better. He has two crucial virus's that he is currently fighting, they are the EBV Virus and CMV Illuminitis (Fatal Virus- it attacks every organ) .
Here is the address if anyone wants to send Ethan a card!
Ronald Mcdonald House Room 17
350 Erkenbrecher Ave
Cincinnati Ohio 4522
9
Autumn - http://autumnsbuggycreations.blogspot.com
And now for the blog candy! Please leave a comment and become a follower if you are not already! Thank you everyone!
Silver stickles
K & Company sticky ribbon
Glue glitter
Warm Vanilla Sugar lotion by Bath and Body works
And.....
A Provo Craft Knifty Knitter set!!